It was 11:30 am. The staff and volunteers of the Atlantic City Rescue Mission were ready.
For the previous hour or two, a team of volunteers from a local girl scout troop had prepared a lunch of stew and sandwiches. Chad and I put together fruit and cookie trays while also preparing potatoes for the evening meal.
The windows were opened, revealing a long line of about 75 men in crisis waiting quietly and patiently for their lunch. While the ladies got right to work serving the first people in line, I briefly was mesmorized by the faces and demeanor of these men. Quite a few looked like educated business professionals. They were appreciative of the meal they were receiving. They were polite and quite a few joked pleasantly with the servers.
The Atlantic City Rescue Mission strives to meet the physical, emotional and other basic needs of the poor and those who are bound and bruised by addictive lifestyles in Atlantic City and the surrounding communities. They provide shelter, clothing, food, counseling, referrals, and structured programs. They do this because the organization loves the people God loves, the people who humbly cry out in despair in their time of adversity.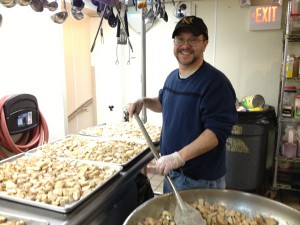 The men who I saw enjoying a meal that had been cooked with love were people like me. They were people like you. What really is the difference between the "haves" and the "have-nots"? The Bible describes Job as a wealthy man who did everything right in life. To have emassed such a fortune, he must have been educated and skilled.
However, disaster struck for reasons that were beyond his control. Everything that made his life a pleasure was taken from him suddenly. He lost his wealth, his ability to earn an income, his beloved children, and his health. He was in despair and in great need, just like these men who had sought the help of the Atlantic City Rescue Mission.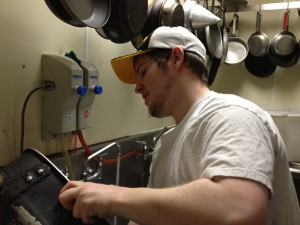 Each one of these men have talents and gifts that society can benefit from. They have value and worth. It is organizations like the Atlantic City Rescue Mission that gives these men the opportunity to heal so that they can give back to society. Compassion for a person in need is really work for the greater good of society.
Upon arrival at the mission, Chad and I were introduced to Tyrone Holloway, the head chef at the Atlantic City Rescue Mission.
Tyrone is a spiritually powerful man who is bursting with the love of God and the love of people. This man clearly has had an encounter with God. He has conviction, courage, and compassion. He shared his inspiring story with Chad and I, which included eight years of imprisonment, a time where Tyrone discovered faith and healing of mind and spirit in scripture.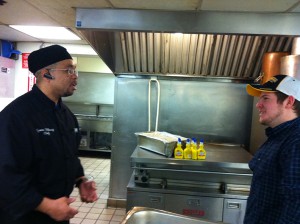 After leading us in a brief prayer, Tyrone put Chad and I to work. We were asked to open a dozen or so large cans of stew and put them into pans for heating. We were then asked to take a huge pot of sliced potatoes (and I mean huge), add seasoning, and to put them on trays that could be cooked in the oven. We were asked to make about 120 cups of fruit followed by the task putting cookies onto napkins for desert for the men.
While we did this work, a Girl Scout troop also volunteered in the kitchen. I believe they prepared sandwiches. When all of the volunteers were done our work, Tyrone took us on a tour of the facility. He shared with us how corporate sponsors donate so much of the food and supplies that serve the nutrition of the guests of the mission. We were informed that a cousin of a major Hollywood celebrity, a name I don't feel at liberty to share but who I know is a name known in every US home, is coming this Wednesday on a mission to donate meat.
It is clear that Tyrone loves his job because he loves the God who loves the people in need who he feeds!

We returned to the kitchen. The women got ready to serve and the window was opened up as described above. Chad and I were left with nothing to do for a few moments. We took a look at the huge pile of dirty pots, pans and cooking utensils and we offered to get to work. Tyrone pulled us aside to express his thanks to God for what we were doing. Apparently, the regular dishwasher didn't come to work and Tyrone credited God for delivering two people to do the job.
"Nothing is a coincidence!" said a passionate Tyrone, giving credit to God for everything good in life.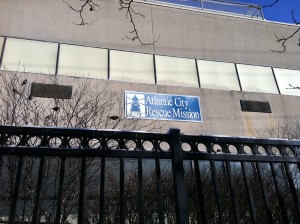 Chad and I thank God for another wonderful stop on our Gramazin Journey. Next? Miriam's Kitchen in Washington, DC in February.
He must have been persuasive in business and connected with powerful people.
Like people all over the world, I was very concerned about the residents of the New Jersey coast when Hurricane Sandy made landfall in October 2012.
The first evidence of the impact of the hurricane that I saw on television or the Internet were photos of the destruction of a major section of the Atlantic City boardwalk. I remember feeling a giant "Oh, no!" in my heart, wondering what would happen to other coastal communities I had often visited in my youth.
As Chad and I drove through Atlantic City on our visit to the Atlantic City Rescue Mission, we had difficulty finding evidence of storm damage. It has been three months since the storm hit and, with many world famous casinos located in town, it is unlikely there would be much to see.
We just happened to be heading north on Pacific Avenue, which terminates at Altman Park on the beach. We had no idea that this was the exact location of the pictures of the boardwalk destruction that had been broadcast on news reports.
The boardwalk has not been repaired. The concrete pylons remain, except this time holding only the weight of an inch or two of snow. The first floor windows of the red brick building in the photo back in October are now covered with plywood.
While I am no meteorologist, the destruction of this section of the boardwalk on the north end of town appears to this novice to be evidence of the circular motion of a hurricane, with the winds from the north sweeping the surge onto the northern end of the island.
The snowy concrete pylons, which Chad climbed on to take pictures, are reminders that there are many families on the East Coast who have not recovered from the storm. We need to do more than to remember them in our prayers. We need to help them rebuild!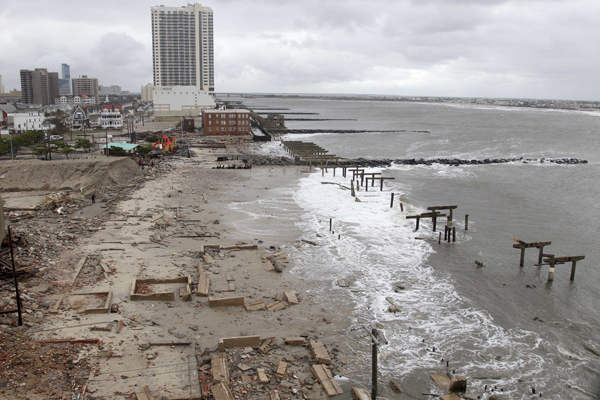 Photo of destruction of Atlantic City Boardwalk after Hurricane Sandy, October 2012.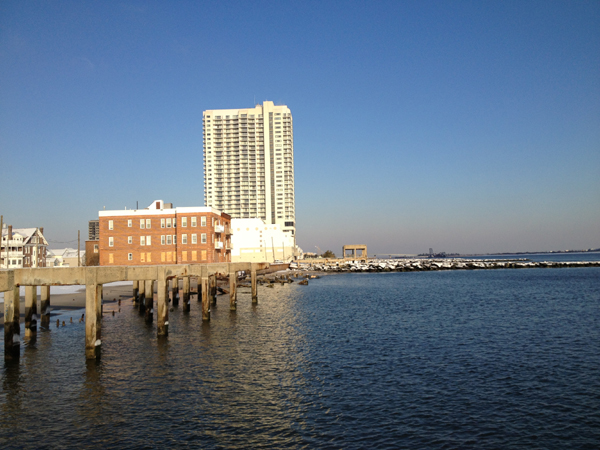 Same location during visit by Gramazin in January 2013.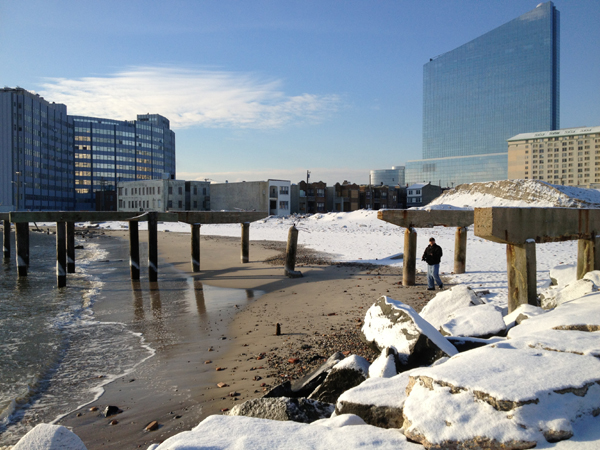 Charles Wagner, in January 2013, standing at site of destruction of Atlantic City Boardwalk.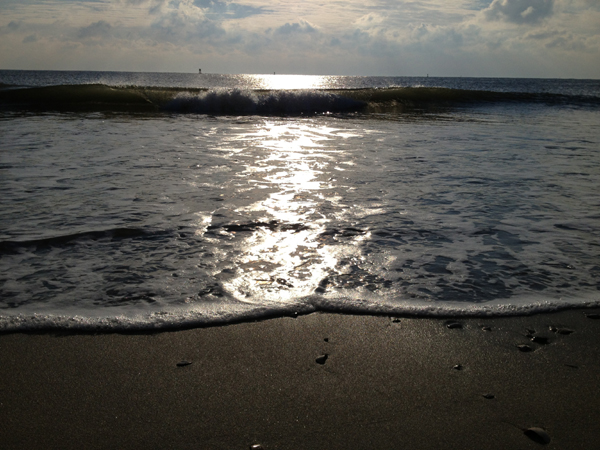 Atlantic Ocean in January 2013.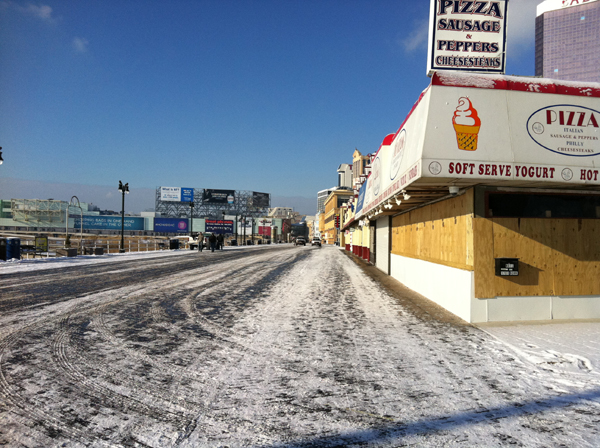 Atlantic City Boardwalk in January 2013.