It was a miserable weather day in Washington, DC. The skies opened around 3 pm and the rain didn't let up the rest of the evening. However, dozens of homeless men and women in the city had a warm place to enjoy a meal thanks to the great work of the staff and volunteers at Miriam's Kitchen.
I will be honest. As a resident of West Chester, PA, which is over 150 miles away from Washington, I was not looking forward to a five hour round trip in pouring rain. When I received the friendly email yesterday from Miriam's Kitchen reviewing the details of our volunteer assignment, I momentarily found some comfort in the text that offered volunteers the opportunity to reconsider in response to bad weather. Surely they would understand with us coming from so far away.
However, for those lost in chronic homelessness, the weather is never an escape from their adversity. Why should weather and distance be an excuse for Chad and I? One of the "take aways" from my experience at Miriam's Kitchen today was the sense that these people are skilled at what they do. That skill comes from executing a plan day after day with a determination to achieve excellence, ignoring the opportunity to offer excuses such as "bad travel weather".
Chad and I did a little "sightseeing" before we arrived at Miriam's Kitchen. That really is a misnomer, as the sightseeing was mostly Chad getting out of the car and running off down the street in the rain to take pictures of the US Capitol, Lincoln Memorial, and Washington Monument while I sat in the dry car with the flashers blinking at the side of the road. We would have taken a photo of the White House but aiming the camera at Capitol Police, even if they experience that thousands of times a day from tourists, was a bit unnerving. We did see Marine One take off from the White House, apparently after President Obama landed on the South Lawn a few minutes before, according to the schedule posted on the White House website.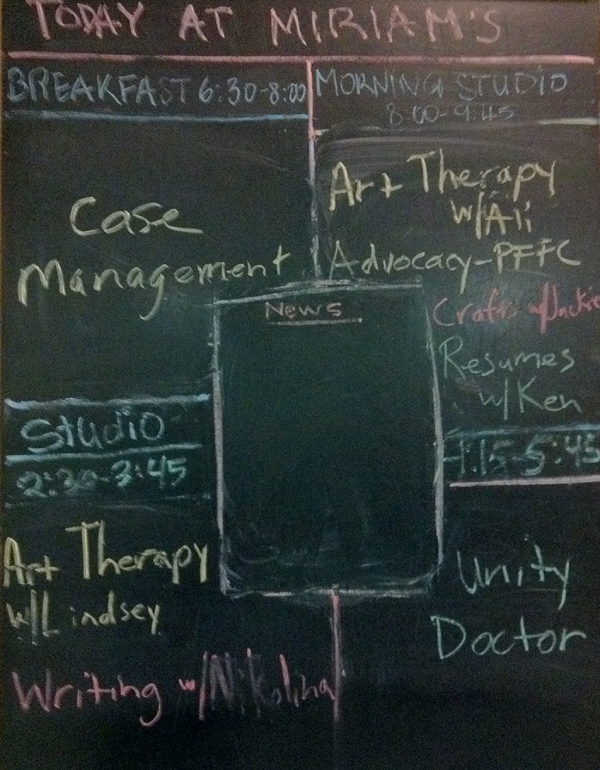 As we seek to achieve our own excellence in our Gramazin Journey, we will coordinate our visit in each city with the local chamber of commerce. We would like to interview residents with inspiring stories in one of best places to visit in each city. However, today, to be honest, we've kind of "been there, done that" in Washington, DC before, in years past, so sightseeing wasn't really very much on our minds today.
We arrived at Miriam's Kitchen at 3:45 pm. Miriam's Kitchen is in the basement of Western Presbyterian Church. As a volunteer in a city I'm not too familiar with, it was very nice to have a convenient, safe, and dry place to park in the underground garage. The parking facility is guarded by a security door and you can park your car a few feet from the door to the kitchen. We were greeted by two members of the staff, one of whom was the very friendly Jean Badalamenti, Advocacy Specialist.
When Chad and I entered the kitchen area, we saw a wall of colorful photos, including photos of a visit to Miriam's Kitchen by First Lady Michelle Obama. Clearly a charity that enjoys a visit by the First Lady of the United States is an organization that has an outstanding reputation. It was truly an honor to support such a great team by volunteering for a few hours.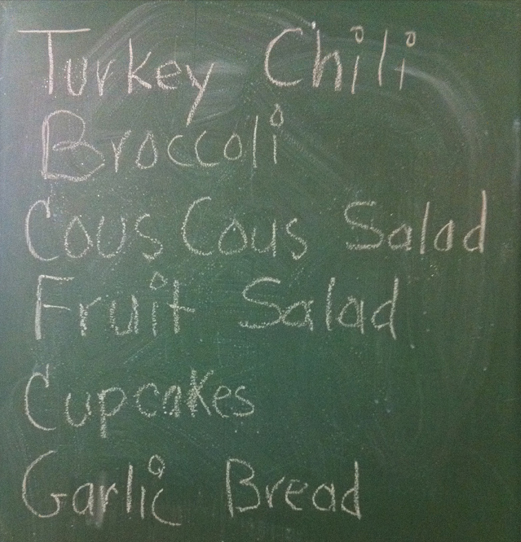 Jose Monterossa, the Chef, wasted no time putting us to work. There were perhaps a dozen trays of salmon that needed to be de-skinned and broken into small pieces. Of course, washed hands, gloves, hats, and hygiene were just as important at Miriam's Kitchen as they had been at the Atlantic City Rescue Mission and Active Compassion Philly. Within a few minutes, we were joined by friendly volunteers from Deloitte Consulting and Congressional Bank. Jose would later share with Chad and I that he had to make an adjustment as he had more volunteers in the kitchen than he was used to.
Our next task was to prepare the pancake mix for breakfast tomorrow. After we finished with that, we enjoyed a conversation with Jean Badalamenti, the Advocacy Specialist. She talked about various initiatives Miriam's Kitchen has on their master plan. This is an organization that clearly is looking to grow and expand services in the future.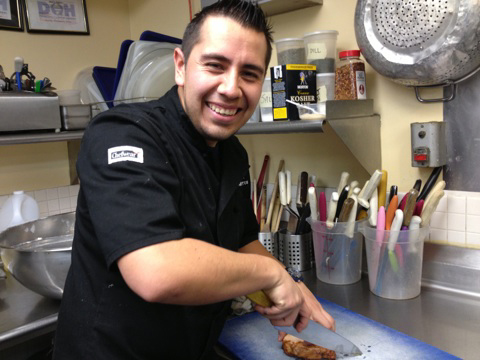 Jose gave us our next assignment – to work in the food serving line. It was time for the guests to enjoy their meal. Chad and I worked side-by-side with the folks from Deloitte Consulting. I was responsible for serving the bread and Chad took care of dishing out the fruit.
I must make a very clear point. In our blogging on the Gramazin Journey, we respect the privacy of those who the various charities serve. We made no effort tonight to talk with or photograph the clients of Miriam's Kitchen. However, the room was full of guests. Chad and I, as did the others serving in the line, made sure that we gave each guest a warm smile as we asked them what they would like. In future visits to charities on our trip, we would like to meet with current or former clients who have volunteered to share their inspirational story publicly.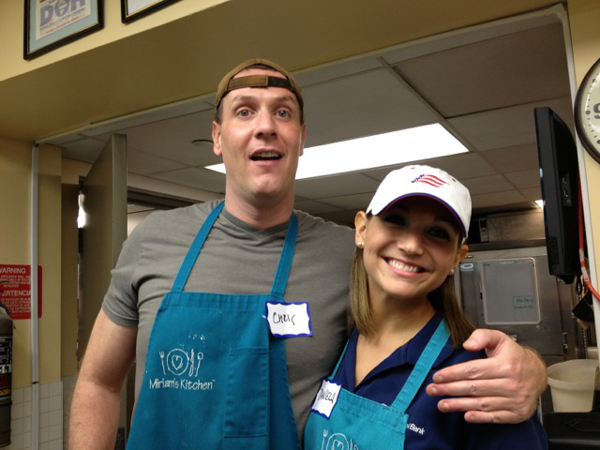 I had a similar reaction to working with the homeless as I had at the Atlantic City Rescue Mission a month ago. So many of the guests seemed as though they had once been in much better situations. They were polite and thankful and I don't doubt they have much to offer our society. How different are we from those who have so little in life? How could our lives change and then we find ourselves in the same situation? Compassion! Mercy! Generosity! Service! We are all God's children and He loves them deeply. Why else would He have provided such a wonderful organization like Miriam's Kitchen? Who knows how these people can contribute to our society if we help them get back on their feet?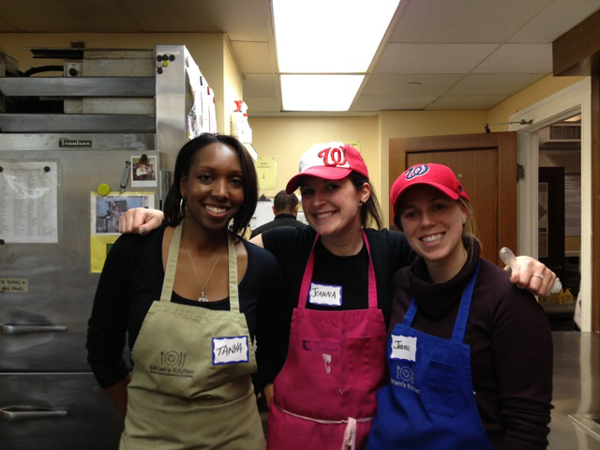 After the last guest had been served, it was time for cleanup. It seemed like an army of volunteers were at work cleaning the dining area who we had not seen in the kitchen. Apparently they had been serving drinks and doing other tasks.
Before we left, Chad and I had the opportunity to enjoy a friendly talk with Jose a few minutes. He clearly takes pride in his work as a chef at Miriam's Kitchen. He has a commitment to excellence and he seemed very organized. The food he had prepared looked delicious and the guests clearly looked like they were enjoying their meal.
Chad and I were warned by the volunteers and staff to wait an hour or two for the notorious Washington DC traffic to ease. However, we ventured into the city, knowing we had a long drive ahead of us back to Pennsylvania. I finally arrived back home in West Chester, PA around 10:30 pm after dropping off Chad at Millersville University. I was exhausted. However, there was the feeling of satisfaction that the Gramazin Journey is important, spreading the word about the inspiring people around the country who care for those who need hope. Kudos to the staff at Miriam's Kitchen, Deloitte Consulting, and Congressional Bank.
---
Additional Photos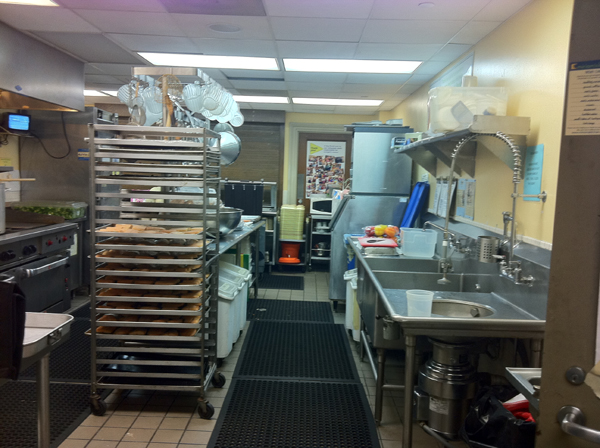 The kitchen at Miriam's Kitchen, Washington, DC, February 26, 2013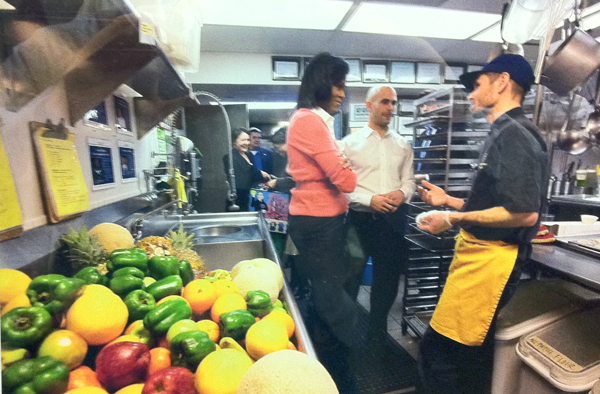 A photo of First Lady Michelle Obama visiting Miriam's Kitchen (date of photo unknown).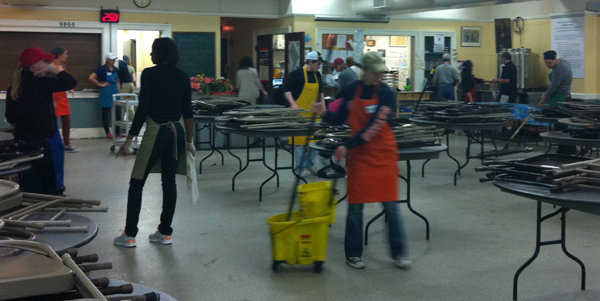 Cleanup after the meal at Miriam's Kitchen, Washington, DC, February 26, 2013 (Chad Wagner of Gramazin in the center of the photo in yellow apron)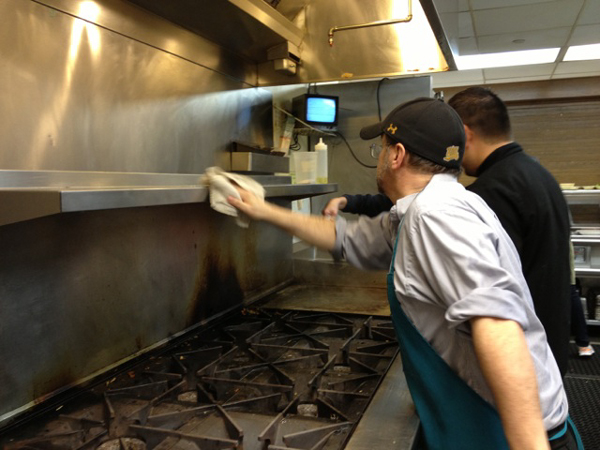 Charles Wagner, of Gramazin, cleans up after the meal at Miriam's Kitchen, Washington, DC, February 26, 2013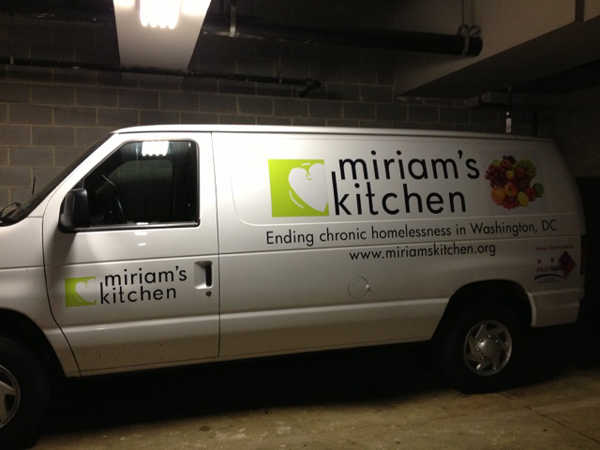 The Miriam's Kitchen van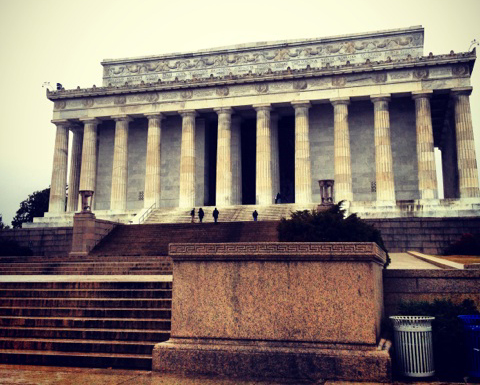 The Lincoln Memorial, Washington DC, February 26, 2013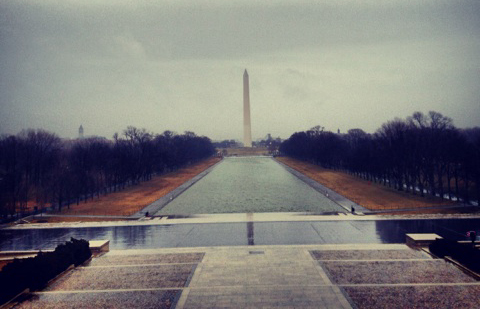 The Washington Monument, Washington DC, February 26, 2013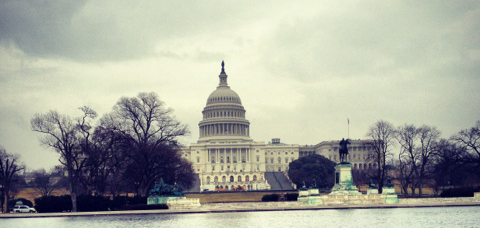 The US Capitol, Washington, DC, February 26, 2013